The Basics of ABS
Acrylonitrile butadiene styrene (ABS) is one of the most widely used thermoplastic polymers across numerous domestic, commercial, and industrial applications today. The history of ABS can be traced back to the 1940s. During this time, manufacturers often used styrene acrylonitrile copolymers. While this material's increased hardness over styrene made it suitable for some applications, it still possessed many physical and mechanical limitations. This led to the introduction of a third monomer, butadiene, and acrylonitrile butadiene styrene (ABS) was created. This material was first available in the 1950s and has gone on to become one of the most widely sought engineering polymers.
The three individual components of ABS possess unique characteristics that contribute to the overall properties of the final material. Acrylonitrile provides the chemical and thermal resistance, butadiene improves its strength and toughness, and styrene is responsible for the glossy finish of the final product. These attributes have made it ideal for applications where durability, superior surface quality, and luster are a priority.
Properties of ABS Plastic
One of the most defining characteristics of ABS is its thermoplastic property. ABS thermoplastics are polymers that melt above a certain temperature to become soft and pliable, and then solidify upon cooling. Thermoplastics can be re-melted and re-molded numerous times without degradation to its mechanical properties. This is in direct contrast to thermoset plastics, which burn when heated. The thermoplastic property of ABS makes it one of the most popular materials in custom injection molding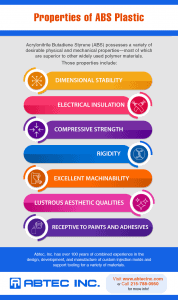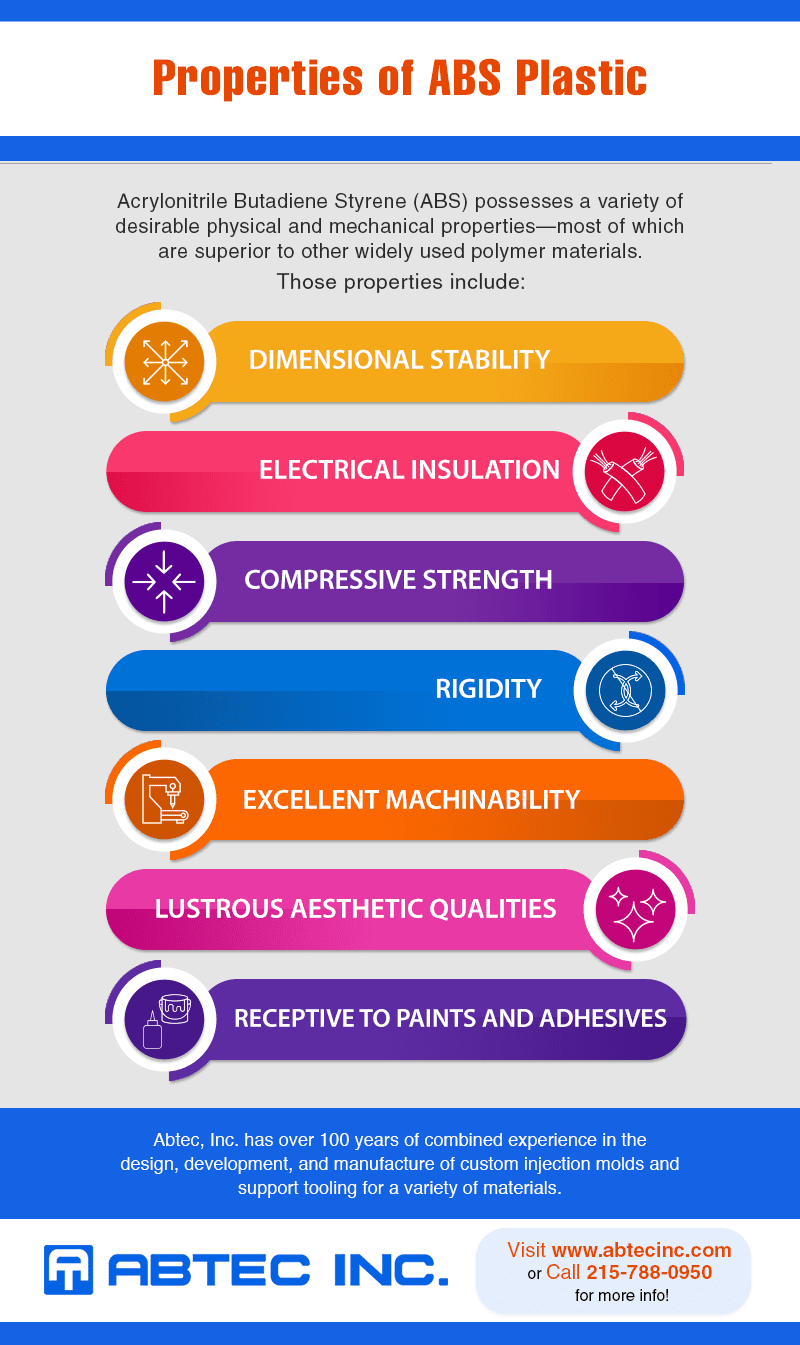 processes.
ABS also possesses a variety of desirable physical and mechanical properties—most of which are superior to other widely used polymer materials. These include enhanced impact resistance, toughness, hardness, heat resistance, chemical resistance, abrasion resistance, and tensile strength. Its chemical composition can be modified by adjusting the proportions of its components to improve specific properties. Therefore, different grades of the material can be produced for suitability in various applications.
Other exceptional properties of ABS include:
Dimensional stability
Electrical insulation
Compressive strength
Rigidity
Excellent machinability
Lustrous aesthetic qualities
Receptive to paints and adhesives
Applications/Industries
ABS's machinability, exceptional properties, and relatively low cost make it ideal for numerous applications. Its use is so widespread that we all interact with it on a daily basis. Everything from luggage, power tools, tool boxes, radio and cell phone housings, furniture, and kitchen appliances are all manufactured using ABS. This polymer is also used in 3D printing and preproduction prototypes due to its excellent dimensional stability and receptiveness to paints and adhesives.
In addition to home and domestic products, ABS is also used in several industrial applications, including, but not limited to:
Food handling – ABS is FDA compliant for food contact applications such as appliances and food packaging.
Aircraft/aerospace – ABS parts can be found both on the interior and exterior of many types of aircraft. Some of these components include luggage bins, cargo containers, signage, cockpit visors, and seating parts.
Automotive – The lightweight property of this plastic is used to make cars lighter and improve fuel efficiency. Typical ABS automotive components include dashboards, wheel covers, body parts, and trimmings.
Medical and pharmaceutical – Medical grades of ABS possess improved biocompatibility, making them suitable for food and medicine administering devices. It is also used in the manufacturing of cases and housings for several medical devices.
Toys – The non-toxic and durable nature of this material is ideal for children's toys such as Legos, tricycles, and action figures.
Learn More About ABS Plastic Molding
ABS molding is widely used to create some of the most durable and versatile plastic products on the market today. The skilled technical staff at Abtec Inc. specializes in ABS plastic injection molding services. We can design, develop, and manufacture any mold and supporting tooling for your unique application.
If you would like to learn more about ABS and how Abtec Inc. can turn your concepts into reality, contact us and request a quote today!