At Abtec Inc., our team has over 100 years of combined experience serving as a global manufacturing partner for custom injection molding services. Utilizing advanced technologies such as computer-aided designs (CAD), we can rapidly produce precision injection molds and parts in a variety of engineer-grade resins. Our design, development, and manufacturing expertise equip us to help you address your production concerns at the best price.
How to Choose the Right Injection Molding Company for You
Designing and manufacturing plastic parts is a complex process, and not all injection molding companies will be prepared to meet the needs of your project. When searching for the best injection molding partner, first identify companies that are comfortable working within your industry. This ensures that they have the appropriate expertise to make recommendations that move your project forward.
The company you partner with should be reliable, consistently meeting and exceeding industry standards. They should be able to demonstrate a history of high-quality product design, as well as prompt and timely project completion. Specifically, look for a company with ISO certification, which would verify that they are able to meet quality standards.
Additionally, make sure the company can meet the scope of your specific project. If you require a large production run of complex parts, confirm that the injection molding company you partner with has the capabilities to work with your desired material and can achieve the specifications of your project.
The best injection molding company should also offer a full-service package, including consultation, design, prototyping, and production. This will add convenience, speed up the manufacturing process, and ensure the final product meets your goals.
In order to determine whether an injection molding company will be able to meet your needs, ask these further questions:
"How long will it take to complete my project?"
"What equipment or facilities are used for production?"
"Which materials will be available?"
"What certifications does your company hold?"
"How long have you been in business and what is your expertise?"
"What design resources are available?"
"Do you have reviews from previous customers?"
Warning Signs


Not every company that meets your specifications will be a good partner. They may have certain practices that raise red flags. For example, avoid working with organizations that do not have a quality management system. These companies typically do not ensure continuous improvement or production tracing.
Another sign that a company is not a good fit is a lack of technical knowledge from the sales team and general manager. Everyone you speak to should demonstrate a deep understanding of the plastic injection molding services they offer. If they cannot, you are likely to experience project delays as you wait for your point of contact to retrieve answers to your technical questions.
If the company lacks proper employee development, design resources, or machine maintenance, avoid these manufacturers to save yourself time and money.
Selecting the Best Materials or Thermoplastics
Starting the plastic injection molding process requires you to choose materials. In order to narrow down the best options, manufacturers should help you consider the following features.
Hardness: The appropriate hardness depends on the intended application of the final product. Polycarbonate is the hardest material, while polypropylene tends to be the softest. Consider factors such as environmental conditions, durability requirements, and user experience to determine the best choice.
Flexibility: Materials can be both hard and flexible (acrylonitrile butadiene styrene) or soft and stiff (nylon). Flexibility in this context refers to the ease with which a material will bend under stress.
Weight: Material density is another important consideration. If the project requires a lighter final product, the manufacturer must use a lighter material.
Cost: After determining the best material qualities, material costs can narrow down the options further. Note that cost should not be the main determining factor, as the properties of the material are what will ultimately determine the success of the final product.
With these factors in mind, here are some of the most commonly used materials for plastic injection molding applications.
Acrylonitrile Butadiene Styrene (ABS)
ABS is a widely available thermoplastic that provides high levels of strength and durability. It maintains dimensional stability and is cost-effective. Thanks to its good electrical properties, it is commonly utilized within the automotive and electronics industries.
Nylon (Polyamide)
Also known as polyamide, nylon is strong and can withstand high temperatures. Because of its wear and chemical resistance, nylon is ideal for mechanical parts like gears, bearings, and bushings in the automotive industry.
Polycarbonate
Polycarbonate is an excellent option for operations requiring visual transparency, heat resistance, and impact resistance. The material also comes in specialty grades such as food safety and contamination resistance.
Acetyl
Acetyl, also known as polyoxymethylene, is stiff, strong, and easy to machine. Depending on the formulation, acetyl can be either porous or nonporous. Nonporous acetyl is chemically resistant and ideal for medical and food applications.
At Abtec, we have experience injection molding a wide range of materials. Our materials menu is an excellent resource for learning more about our materials and expertise. We always carry a variety of thermoplastics in stock, enabling us to quickly meet the needs of any project.
Which Services are Available at Abtec?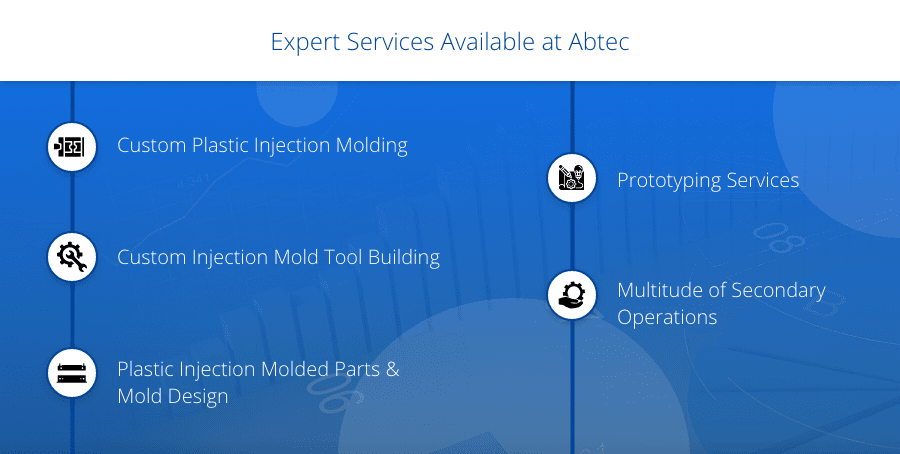 The following are the primary services we offer at Abtec.
Custom Injection Molding Tooling
With experience in both CAD and traditional formats, we are able to rapidly create fully customized and highly precise molds. We prioritize open communication between technicians and mold-building teams to ensure a smooth, efficient, and cost-effective process.
Plastic Injection Mold Design
We utilize a range of 3D CAD systems—as well as universal formats such as STP and IGES—to successfully import all designs for plastic injection molding. Our streamlined mold review process reduces review time by up to 50%. At Abtec, our design team will work closely with you to analyze your project and determine the most cost-effective options.
Injection Mold Transfer Tooling
The injection mold transfer process can be arduous, but it is often necessary in order to take advantage of better rates or higher quality service. Abtec can smoothly transfer your information and equipment from your current provider by following these six steps:
Evaluation and documentation
Quality inspection
Advance stock
Cleaning and coating
Shipping
Reinstallation
Custom Plastic Injection Molding
Abtec offers customized plastic injection molding services and has the capability to manufacture parts in both low and high volumes. We offer a wide range of materials and specialize in engineering grades of thermoplastics such as PPS, PPSU, PEI, PEEK and LCP. We also offer several secondary services—including heat staking, milling, and ultrasonic welding—to create fully customized parts.
Prototype Services
We can help design and create prototypes for your project to increase efficiency starting in the early stages of development. Our 3D-printed prototypes are an affordable way to test a design before building the injection mold tools.
Custom Injection Molding Solutions from Abtec
Abtec is dedicated to providing our customers with the highest quality injection molding solutions. We provide regular personnel training for our production employees, and our preventative maintenance programs ensure our equipment always stays in good condition. In addition, we are ITAR/DOD Registered/Compliant and ISO 9001:2015 certified.
We will work closely with you throughout the design and manufacturing process to ensure you receive the highest quality product at the most competitive price. Find out more about what we do by reading our blog, or contact us today to start working on your injection molding project.