With more than a century of combined experience, Abtec Inc. provides quality plastic injection molding services to an array of industries. Our customers look to our parts to solve any number of production and manufacturing problems. They count on the versatility and efficiency of our equipment and team to fulfill a range of requests with quick turnaround times. Our expertise makes us well suited to deliver quality injection molded parts that meet the demanding standards of the defense and military sectors.

Applications, Benefits, & Info to Know!
Military, tactical, and defense industries rely on quality products to keep daily operations running smoothly. When new parts are needed, injection molding offers a fast and affordable production method. To suit the strict product standards of the military and defense industry, injection molding can be tailored to precise specifications, using the best materials and design practices to ensure every mission and training can be carried out the way it's intended.
Benefits of injection molding for the defense and military sector include:
Dependability
Plastic injection molding can create complex parts, such as fittings and fasteners, that withstand everyday use while maintaining their integrity under harsh conditions.
Uniformity
Military and defense components must be uniform. Plastic injection molding can quickly produce many uniform parts that meet military specifications.
Lightweight
Plastic injection molded parts for military and defense applications are not only durable, but they are lightweight. Having lighter components allows soldiers to stay on station longer and have faster response times.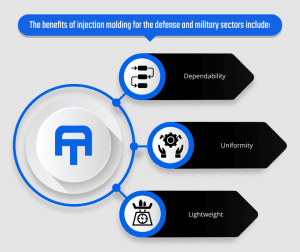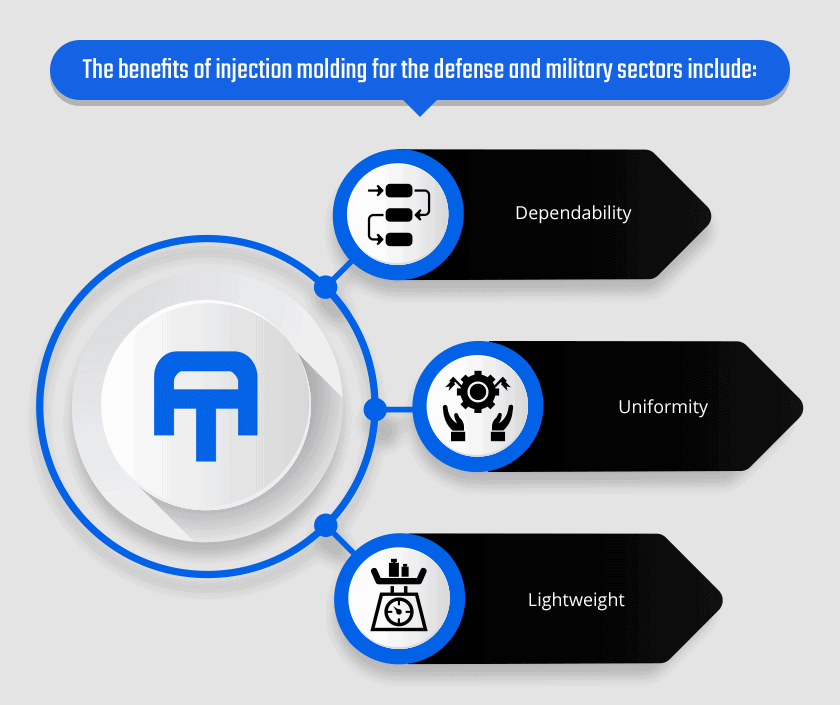 Military and defense components have no room for error, which is why the International Traffic in Arms Regulations (ITAR) sets strict standards for a variety of projects. Compliance with these standards is crucial in ensuring dependability, uniformity, durability, and overall quality. Plastic injection molding at Abtec Inc. is fully compliant with ITAR, ensuring that our parts can be used for high-strength applications across the military, defense, and aerospace industries.
Plastic injection molding is used to manufacture the following parts for military use:
Headsets/radios
Antennas
Goggles
Aerospace filters
Flashlights
Scopes
Hooks/fasteners
Which Materials are Used in Plastic Injection Molding for Military & Defense?
Plastic injection molding is the ideal process for creating the above–mentioned items (and more) because plastic offers a durable and corrosion-resistant material that can withstand harsh environments.
Common plastic materials used for this process include:
Ultem®. This plastic is excellent for high-heat applications because it can operate at temperatures of up to 340° F without losing its strength or rigidity. It also offers excellent resistance against chemical and electric forces.
Noryl®. Noryl is a thermoplastic that can withstand temperatures up to 230° F. It's easily made and has demonstrated impact resistance and low-moisture absorption.
Acetal. This is a general-purpose plastic that's known for its dimensional stability, even in the face against other metals and plastics. It features a low water absorption point, excellent electrical properties, and a strong resistance to organic solvents.
Polycarbonate. Polycarbonate is a clear plastic that is tough, stiff, and easy to bond with solvent chemicals. It can be used for sight glasses and machine guards as well as face shields and clear manifolds. It also boasts excellent electrical resistance.
Polyphenylene Sulfide (Ryton®). High-performance engineering thermoplastic characterized by outstanding high-temperature stability, inherent flame resistance, and broad chemical resistance. Most PPS compounds are used for their combination of high-temperature stability, chemical resistance, dimensional reliability, and flame retardance.
Polyphenylsulfone (Radel®). Delivers the highest performance of sulfone polymers, offering better impact resistance and chemical resistance than polysulfone (PSU) and polyetherimide (PEI). The high heat resistance and excellent hydrolytic stability
The right plastic for a military application depends on factors such as intended use and how the part will be stored. At Abtec, we work with a wide range of materials and can help you determine the best option for your military application.

Plastic Injection Molding from Abtec, Inc.
Plastic injection molding creates precise parts that can withstand a range of demanding environmental conditions, making it an ideal production method for various military and defense products. At Abtec, Inc., we specialize in custom plastic injection molding, and we are ITAR-registered to ensure compliance with strict military standards. Regardless of your application, we can deliver durable and high-quality injection molded parts that meet your specific requirements and specifications.
To learn more about our plastic injection molding capabilities for the military and defense industry, contact us today.